According to a recent report, Google handles an average of 2.3 million searches every second. No doubt, Google is our go-to resource. We use it so much that "Google" has become a verb, as in, "Just Google it."
But you can do much more than merely find articles, products and websites with Google. Here are seven Google tricks you'll use time and time again.
1. Find the best and cheapest flights
There are a slew of travel sites, including CheapTickets, Expedia, Hotwire, Kayak, Orbitz, Priceline and Travelocity, that help you book flights, hotels and vacations. But when you want an uncluttered and simplified way to find a flight and check prices, head over to Google Flight Search.
Google Flight Search gives you quick access to information from various airline and travel sites in one place. It shares many of the same features as the other sites, such as airline comparisons, rate monitoring and price trends. Flight Search's beauty, though, is its lack of ads and its straightforward approach. For example, if you're flexible with your travel dates, the ticket prices are listed day-by-day on the calendar.
I especially like the map on the home page that shows pricing information at a glance for destinations you might be interested in visiting. Go ahead, take a moment to daydream about seeing the sunset from the Space Needle or the Eiffel Tower while you're booking that business trip.
Booking is easy. Just select the flight you want and follow the prompts to purchase your ticket.
Note: Having a great online tool isn't the only thing you need to get a great price on tickets. Click here for a secret formula that shows if you're paying too much for airfare.
2. Build stuff with Legos
Not everything you do on Google has to be practical. Sometimes you just need a break, and puzzles and building blocks are a great way to challenge your mind while recharging your battery. And if you have kids in the house, show them this. They'll love it.
The free online Lego builder browser extension for Chrome and Firefox allows you to build models out of Legos. The models are saved to the cloud, where you can share them and see those that others have created. It's great fun. Just tell the kids you're trying it out before you let them take the reins. Click here for a video tutorial and a link to the browser extension.
3. Keep track of time
Let's say you're wondering what time it is somewhere else in the world. Just type "What time is it in [location]?" for the answer. You can also ask Google what the time difference is between any two cities pretty much anywhere in the world.
Google can also help you stay on schedule. Type "Set a timer for [x] minutes," and Google will pop up a timer. There's a handy stopwatch, too, to the right of the timer window.
When you're wondering whether it's better to fly or drive somewhere, type "How long does it take to get to [destination]?" Google provides the approximate drive time including any road construction or delays.
4. Translate languages
Whether you're a frequent traveler or you're trying to learn a new language, Google can help you overcome language barriers. The Google Translate function is integrated right into the regular Google search, so you don't even have to visit another page.
To translate with Google, type "translate" in the search bar. This will bring up two boxes in your search results. The box on the left is for the language you'd like to translate from, and the box on the right will show the results in the language you choose to translate to.
There are tabs above each box that let you choose from more than 100 languages, including common ones like Italian, French, Russian and Spanish, and even lesser known ones, like Icelandic.
My son, Ian, is learning Mandarin, and he uses Google Translate on his iPad to write out the characters and listen as the words are spoken back. And I love using the Google Translate app whenever I travel out of the country. One of the app's most useful features is its ability to scan printed words and translate them instantly. Perfect for restaurant menus, venues and street signs! Click here to learn more about the Google Translate mobile app.
5. Count calories
When you're wondering how many calories are in a meal, type, "How many calories does [food item] have?" and Google will tell you the answer. It also includes details such as portion sizes and additional ingredients that are factored into the overall calorie count.
Use it also to compare the calorie count of different foods. For example, imagine you're out having drinks with friends, but don't want to go overboard. Go ahead, ask Google, "Which has more calories, wine or beer?"
6. Explore the sky
If you thought Google Earth was great, then this is going to blow your mind. You can step off of our planet and into the universe with Google Sky.
Instead of searching locations on this planet, you look at outer space using images from telescopes, probes and satellites. It works similarly to Google Earth. You can search for items in the search bar at the top and Google Sky will show you the most recent images of the stars, planets and galaxies you're looking for.
The tool also includes showcases at the bottom of the page to direct you to popular and interesting parts of the map, like images from the Hubble Telescope and shots of our own solar system.
In addition to the basic map, you can look at infrared and microwave images of space. You can also look at a historic map of the stars made by Giovanni Maria Cassini in 1792! For fun, overlay these different images on top of one another to see how they compare.
7. Use Google like a pro

If you're searching for answers, you don't have time to sift through pages and pages. You want to find the most accurate results as fast as you can. To get better results, here are a few secrets.
One of the easiest tricks is to place your search terms between quotation marks. This tells Google to search for that phrase exactly, instead of searching for those keywords anywhere in an article.
When you're looking for something on a particular website, you can begin that search right on the Google home page. There are a few ways to do this. The first way is to type the website name in the address bar, followed by a colon. Then hit the spacebar and type your search term.
For example, "komando.com: smartphone battery tip." Another way to do this is to include the website name along with your search term, such as "komando.com smartphone battery tip."
Either of these options will limit Google's search to find content on the specific website.
If you're looking for information within a date range, you can find faster results by including two periods between the dates themselves. For example, "top rock bands 1960 .. 1980."
Using these tricks will help you pinpoint the information you need without wasting your time on content that barely meets the criteria of your search. Click here for even more tricks to get faster answers on Google.
read more:
---
Recommendation: Manage iPhone/iPad/iPod without using iTunes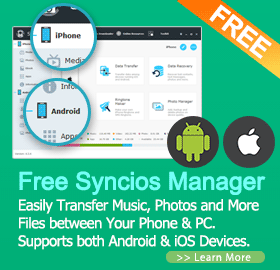 Support to transfer, edit, backup, manage, view iOS & Android mobile data: Music, videos, photos, apps, ebooks, contacts, messages and more.
Download videos from 100+ video sharing sites up to 4K HD video quality and transfer to iPad/iPhone/iPod/Android.
Massive free resources: videos, wallpapers, ringtones
Handy toolkit: Audio converter, video converter, ringtone maker, etc.
Free
You can follow Syncios onTwitter,Facebookfor more tips and tricks.
source:foxnews