iPhone X is the early adopter's phone. You're paying the price (literally and figuratively) to get the future's phone, today. There are a lot of new ideas here. Some of them are intuitive and work reliably every time. But many don't. The gesture-based interface can be unreliable sometimes. Face ID is magical but in some conditions, it loses a bit of the magic.
iPhone X is, overall a great phone. Especially for tech enthusiasts. But there are minor annoyances with the device. Here's how to fix them.
1. Adjust a Bit to Face ID
Face ID works as advertised most of the time. But if you're having issues unlocking your phone, here's what you should do.
Start unlocking: Don't wait for the padlock's unlocking animation. Just start the swipe from the bottom of the screen. Most of the time, Face ID authenticate will be done by the time you reach the Home screen.
The distance matters: Face ID works best when it's between 10 and 20 inches (25 to 50 centimeters) from your face. So if Face ID isn't working, try to bring it closer or farther from your face.
Look at it head on: Face ID doesn't work well when your iPhone X is lying on the table. You'll probably need to pick it up and look at the screen directly.
Sunlight issues: Bright sunlight seems to confuse Face ID (stark darkness is fine though). If you're out and about, make sure the sun isn't blaring right behind you. It might mess with Face ID.
2. Disable Detect Attention Feature
Face ID requires you to make eye contact with the TrueDepth sensor before it can even start the authentication process. If Face ID takes way too long for you, and if you're not concerned about the decreased privacy, you can just disable this feature.
If you wear sunglasses that don't let IR through, you'll have to do the same.
Go to Settings -> General -> Accessibility -> Face ID and Attention and turn off Require Attention for Face ID.
Now, as soon as Face ID can confirm your face, you'll be in. Yes, it increases the potential risk that someone else will unlock your phone while you're sleeping or looking somewhere else.
You can quickly disable Face ID by pressing and holding all three buttons at the top (Side button and Volume buttons). Once you get the Taptic feedback, you'll need to enter the passcode to enable Face ID again.
3. Enable AssistiveTouch
AssistiveTouch button on the iPhone X is a perfect circle. It looks like a software Home button. Because if you're missing the Home button, AssistiveTouch will be your virtual home button that does the same thing.
Go to Settings -> General -> Accessibility -> AssistiveTouch and turn the feature on.
Then below, set the shortcut following shortcuts:
Single-tap: Home
Double-tap: Multitasking
3D Touch: Siri
Long-press: Control Center
This takes care of the most complicated gestures (especially Multitasking and Control Center).
4. Enable Reachability
Reachability isn't enabled by default on the iPhone X. And it works in a different way.
Enable Reachability by going to Settings -> General -> Accessibility -> Reachability (if you're not able to find this toggle, update to the latest iOS 11 version).
Now, flick down on the Home indicator area. There's not much space there so you'll need to start from the top part of it. After a while, you'll get to grip on it.
When Reachability is activated, the screen slides done. You can swipe down from the blank part to access notifications. And swipe down from the far right edge to access Control Center.
5. Enable Notification Previews when Locked
Hidden notification previews are a great feature. Unless you authenticate with Face ID, the content of notifications stays hidden.
But because of various battery saving and viewing angle reasons, it's not always easy to get Face ID to unlock your face without actually doing the Home gesture. I've found that sometimes Face ID unlock on Lock screen just doesn't work automatically. And when I swipe up (without moving the device at all), it instantly authenticates and unlocks.
There's an out for this mild annoyance. Go to Settings -> Notifications -> Show Previews and switch to Always.
Now when you get notifications, you'll be able to see the content right off the bat.
6. Take Portrait Mode Selfies with Direct Source of Light
Portrait mode and Portrait Lighting comes to selfie camera in the iPhone X. When done right, the results are amazing. Especially when you add the Studio Light and Stage Light Mono effects.
But the front-facing camera doesn't qualify for the point-and-shoot abilities that iPhone cameras are famous for. If your face isn't angled just right, your glasses or your ears will be blurred out. It also has a tough time with messy hair.
So when taking Portrait mode selfies, follow the following tips:
Angle your face so that your glasses aren't protruding out. When that happens, they'll just get blurred out.
It's best to look straight ahead. This way, your ears won't be blurred in a weird way.
If you're going to use a Portrait Lighting effect (and you should), it's best if you're directly facing an even light source. This can be a window or even a light bulb. Just make sure the light source isn't behind you. This is especially important if you're going to use the Stage Lighting Mono (black and white) effect.
7. Don't Zoom into Videos
Apple advertised videos taking up the entire screen. When you're watching movies with the 21:9 aspect ratio (or trailers like the latest Thor: Ragnarok Trailer 2), they'll automatically fill the screen in such a way.
But most of the videos are still 16:9. And thankfully, they all play letterboxed. All that wasted space is annoying. But if you do what Apple shows and pinch out, you're just zooming in. This leads to some very annoying issues. Subtitles are cut out and you're missing out on a lot of video content on all four sides (not just what's behind the notch).
So keep calm and watch the videos letterboxed (which admittedly, is a shame because you have the viewing area of the iPhone 8 instead of the iPhone 8 Plus).
BONUS
Disable Attention Aware Features
iPhone X has new defaults for auto locking the phone. Plus there's a new feature which dims the screen if you're not actively looking at it. The combination of both of this feature amounts to a new annoyance. The iPhone X screen starts dimming and goes to sleep in 30 seconds, sometimes sooner than that.
If you're used to locking the iPhone yourself when you're done with it, and not a second before that, you'll want to go back to the way things were.
From Settings -> General -> Accessibility -> Face ID and Attention, turn off the Attention Aware Features toggle.
To take care of the auto-locking issue, go to Settings -> Display & Brightness -> Auto-Lock and increase it from 30 seconds (something like 3 minutes might be best).
Lovely Annoyances?
Once you're over the annoyances, you might just fall in love with the iPhone X. In a way, the annoyances give the iPhone X an endearing quality. It's not perfect but it's ambitious.
Related article: How to Make iPhone 8/iPhone X Ringtones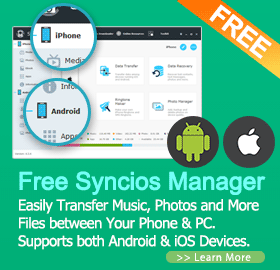 Support to transfer, edit, backup, manage, view iOS & Android mobile data: Music, videos, photos, apps, ebooks, contacts, messages and more.
Download videos from 100+ video sharing sites up to 4K HD video quality and transfer to iPad/iPhone/iPod/Android.
Handy toolkit: Audio converter, video converter, ringtone maker, etc.
Free
You can follow Syncios onTwitter,Facebookfor more tips and tricks.