Although iTunes was launched in 2001, Apple has continued to develop and update it, to create a better user experience. iTunes is a good way for Apple users to organize and enjoy the music, movies, and TV shows they already have — and shop for the ones they want to get. They can even tune in to free, on-demand music stations that have been totally revamped by our Apple Music experts. Enjoy all the entertainment iTunes has to offer on your Mac and PC.
However, ITunes remains a complex, frequently unwieldy beast, complained by many iOS users, primarily because it now has to deal with managing all kinds of media on your Mac or Windows PC, which causes frozen or slow user interface. Therefore, you may find that many people are looking for alternatives to iTunes on forums or searching on websites.
The purpose of this article, then, is to explore alternative apps that focus on the better iPhone, iPad and iPod Touch transfer or manager for Mac. Ideally, we wanted to find apps that would enable you to work with your existing music, books, TV shows, movies, notes, messages, contacts and apps, but that would have more straightforward interfaces and won't break the bank.
Top 1: SynciOS For Mac
Simpler & Faster Alternative to iTunes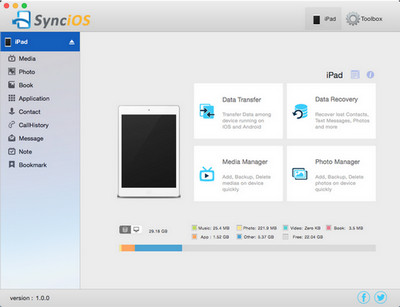 SynciOS Manager is a powerful iTunes alternative and iOS manager, trusted by millions Apple users. It can help you backup and restore your iOS device with a few clicks as well as transfer up to 12 types of data between your Mac and iPad/iPhone/iPod without using iTunes. With the clear working panel, you can backup and recover contacts, notes, bookmarks, SMS and Call history without trouble. Besides, you are able to use your iOS device as an external USB Key for extra convenient storage and tranfer data between two iPods, iPad to iPhone and etc.
Support OS: Mac or Windows
Price: Free
Supported iOS: iOS 11, iOS 10, iOS 9 , iOS8, iOS 7 and the prior versions.
All iDevices Supported : iPhone ; iPad ; iPod Touch.
Supported Operating System : Window 10/8/7/Vista(32&64bits); Mac OS X  10.9 – 10.13.
---
Top 2 : Wondershare TunesGo
Great All-in-one Music Management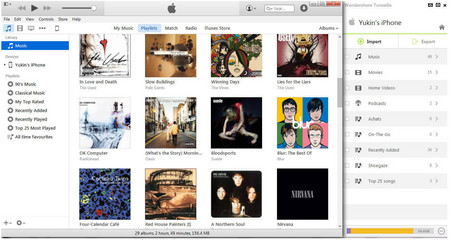 Wondershare TunesGo is an all-in-one music management program that allows users to transfer, download and organize their music and playlists in one simple interface. TunesGo supports music and videos in more than 30 formats, helping users to transfer almost any killer song or video from any computer to any iPhone, iPad, and iPod for enjoyment.
Layout: An iTunes Plug-in, with a simple and clean user interface.
Support OS: Mac or Windows
Price: $59.95
---
Top 3: iSkysoft TunesOver
Fast Convert Files for iDevice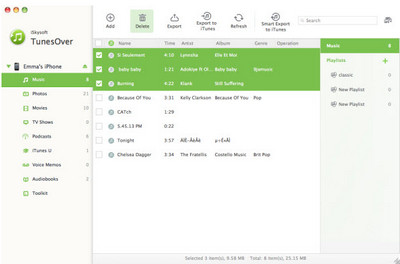 It allows you to manage your iPhone/iPod/iPad music files and provide you a quick way to build playlists for your device. To use TunesOver, you do not need to worry about the music format, since this smart application can detect the file format and automatically convert music to your iPhone/iPad/iPod compatible formats. Just connect your device to Mac and launch TunesOver. Then you can click "Add" button to select the music files from your local hard drive and add music to iPhone, iPod or iPad.
Support OS: Mac or Windows
Price: $39.95
---
Top 4: iAmazing
Support Transferring via Wi-fi
iAmazing is an app manager which assists you to get rid of iTunes. It is best for synchronization of your media file and to transfer the music from windows to Mac and vice versa. One of the exciting feature that make it prominent is that it can transfer file through USB as well as through Wi-fi. It can detect and can connect with multiple devices through Wi-Fi and Cable. Other features are same as iTunes. Easier interface helps to understand the software and helps to edit, view, buy and manage the apps inside.
Support OS: Mac or Windows
Price: $34.99
---
Top 5: Spotify
A new way to enjoy music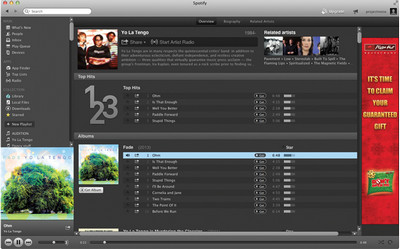 Builds playlists of any songs you want, for free. Innovative use of music apps make discovery fun. Good sound quality, especially with Premium version. Robust Facebook integration. Spotify allows you to share songs and playlists with friends, and even work together on collaborative playlists. Taking cues from iTunes, Spotify integrates your existing music libraries with its own giant catalog of songs from artists all over the world.
Support OS: Mac or Windows
Price: Free
---
Source: SynciOS Official
Related Articles: