Photo editing is easier than it's ever been before, which means there's no longer any excuses for posting substandard pics on your social sites.
To help you maximize the potential of your images, we've rounded up five simple fixes for common photo problems that you can fix in a matter of seconds.
Most smartphones boast decent built-in editing options, but we've used Adobe Photoshop Express, an app that's free for both iOS and Android devices, for our walkthrough.
1. Crop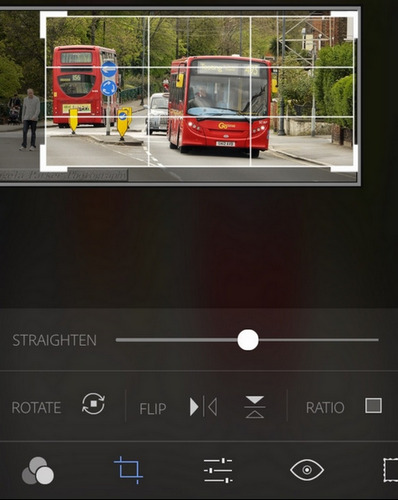 Consider if your image would benefit from being cropped to a certain size or area. All too often you see photos that have unnecessary people or objects in the frame, which detracts from the image's full impact. Don't be afraid to play around with crop options to see if a strategic chop could make for a better photo.
In Adobe Photoshop Express, the crop tool is the second icon along the bottom menu. Once you've selected this tool, it's just a matter of using your finger to drag the crop lines where you want them.
If you change your mind at anytime, you can simply tap the undo button (the curved arrow on the top menu) to revert to your original image.
2. Sharpen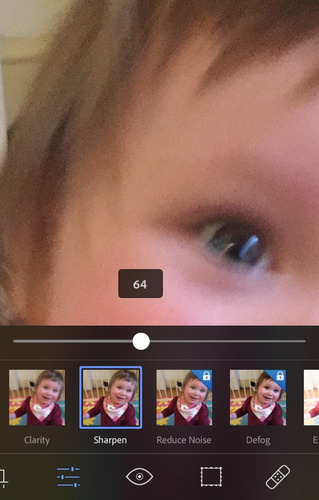 We see far too many blurry pics online, especially of beloved kids and animals. While there's not a lot you can do to alter a very blurry image, it's easy to fix a small amount of blurriness.
Tap the icon on the bottom menu that has three lines with dots. From here, you'll see options to change the image's clarity and to sharpen it. Tap on the options to start the process, then use the slide tool to select the level that suits your image best.
3. Red eye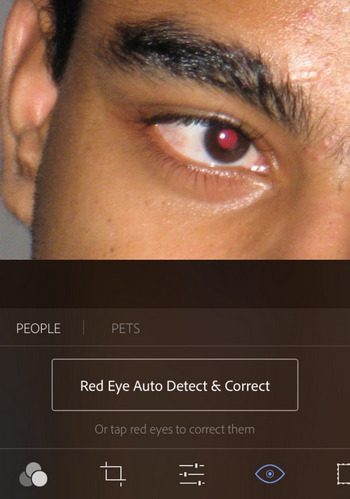 Red eye is a really simple fix. In the Adobe Photoshop Express app, tap on the eye icon at the bottom of the screen. You can then hit the "Red Eye Auto Detect & Correct" button for an automatic solution, or tap on the red eyes in the image to fix them manually.
There's no excuse for pet pics with weird eyes either, as the app also offers a way to correct the animal version of red eye.
4. Blemishes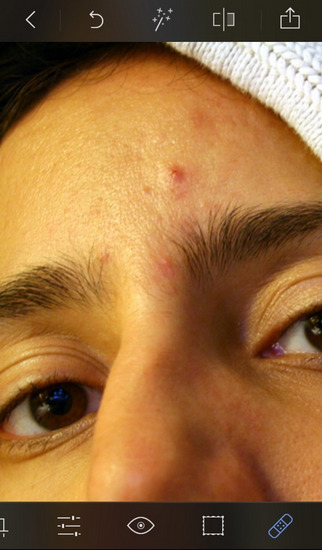 We're really not all about fake Photoshop beauty, but it makes sense to edit the odd blemish, especially in an otherwise ideal image you're keen to share.
Adobe Photoshop Express has basic blemish smoothing abilities that can remove spots, dirt and dust. Swipe left on the bottom menu until you can see a bandage icon. Tap it, and then tap the areas in the image that need improving.
5. Darkness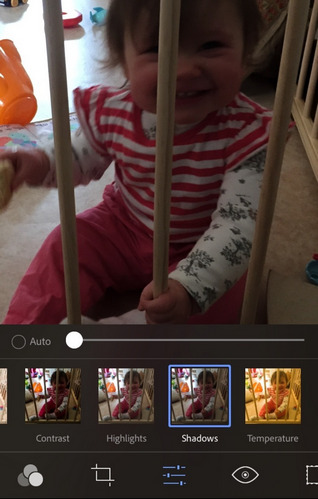 Smartphone cameras are improving with each new device, but it's still all too easy to snap photos that are too dark. The good news is, you can play around with exposure levels to fix them.
In the Adobe Photoshop Express app, simply adjust an image's contrast, exposure, highlights, shadows, temperature, tint and vibrance.
To access these tools, tap on the icon made up of three bars with dots, and go through the various options available.
Source: Mashable
You might be interested:
You can follow Syncios on Twitter, Facebook for more tips and tricks.
Recommend: do you still feel sad about losing precious photos from iPhone? Do not worry, you can try this perfect one click iPhone data recovery tool to retrieve photos, messages as well as contacts, reminders, calendars, bookmarks, videos, notes, call history other files on your iPhone, iPad or iPod Touch. Simply download and have a try.