iMessage is a convenient platform so long as you remain within Apple's walled garden. The following tips help you stay connected after leaving.
For those who are on the fence about jumping outside of Apple's ecosystem and testing another mobile platform, you'll first need to deal with disabling iMessage.
Apple's proprietary messaging platform connects your phone number, email address(es) and Apple ID to Apple's servers. Once enabled, you can message fellow Apple users from all of your Apple devices without skipping a beat.
The platform is fast, reliable and offers a better experience than standard text messaging. But it is known for causing issues when a user decides to leave iOS behind and jump ship to another platform. The issue? Incoming messages from iOS users are lost in an iMessage blackhole, undelivered to your new device. It's frustrating, to say the least.
We've covered various methods for making the switch as easy as possible, but here's my routine for disabling iMessage. As someone who switches between Android and iOS on a regular basis, I've had plenty of attempts at making the transition as smooth as possible.
Recently, I found the right combination of steps that make the process painless for myself and those I regularly message. You will want to complete the steps below before you remove the SIM card from your iPhone. I repeat: before you remove the SIM card from your iPhone.
Disable iMessage on your Mac and iPad
Before you turn off iMessage on your iPhone, be sure to disable it all other Apple devices you are using iMessage. Assuming you own an iPad or Mac (or both) here are the instructions for either device.
On a Mac, this is done in the Messages app. With Messages open, click on Messages in the menu bar followed by Preferences. Select your iMessage account from the list on the left, then click on the checkbox next to Enable this account to remove the checkmark and disable your iMessage account on your Mac.
Next, do the same thing on your iPad. Launch the Settings app, tap on Messages and slide the iMessage switch to the Off position.
After completing the steps below and verifying your phone number has been removed from Apple's iMessage servers you can turn the service back on on either device, using only an email address for sending and receiving messages.
Disable iMessage on your phone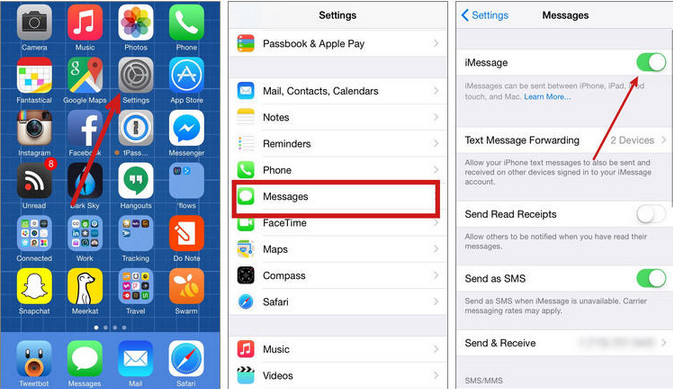 After disabling iMessage on any and all devices you use it on in addition to your iPhone, you can now turn it off on your phone. The process is the same as it was on the iPad: Launch Settings, tap on Messages, slide the iMessage switch to Off.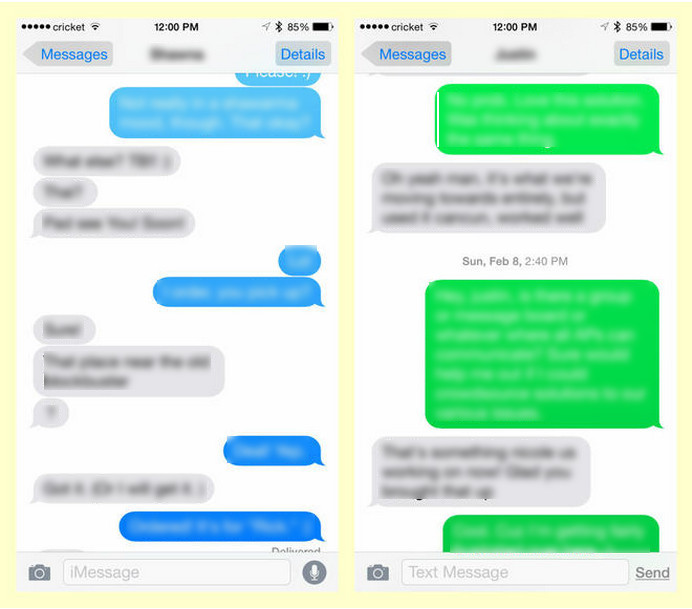 Wait a couple of minutes after disabling iMessage on your iPhone and then send a text message to a contact. I suggest picking someone you know is an iMessage user. You will know its a text message when the green Send button shows up to the right of the text field. Also, the bubble for the message you just sent will be green instead of the usual blue.
Make the switch
I know the above steps seem like a lot of work, but in reality it only takes a couple of minutes. You just need to plan ahead and disable iMessage before making the switch. In other words, go through the above steps before heading to a carrier store and buying a shiny new Android device or activating a new device that just arrived via FedEx.
If after following the above steps you have contacts reporting they still can't send you messages, ask them to force a couple messages through as text. They can do this from their iOS device by long pressing on the blue message they attempted to send and selecting Send as Text Message. Two or three messages in quick succession usually forces a device to recognize you no longer use iMessage.
If all else fails, you can always use Apple's tool to deregister your phone number from its servers.
Reference: CNET
You can follow Syncios on Twitter, Facebook for more tips and tricks.
Recommend: If you would like to backup iPhone messages to your computer without iTunes, this perfect iPhone messages backup software maybe what you need. Just download it and have a try.