Here are 15 awesome tips to get you up-to-speed in a hurry.
1. You have a Snapcode
That little ghost icon with your photo in it can be shared to get new followers. It's called a Snapcode. Just have a friend take a snap of your Snapcode icon and the app will give them the option to add you.
2. Snapcodes can send people to your site
You can also customize a Snapcode for your website, Facebook page or anything else. Tap the ghost icon in the upper left of the camera screen, then go to Settings > Snapcode > Create Snapcode. Add the address to your website and tap Create. The app will create an icon that will link directly to your site.
3. You can see if people are stealing your pics
Social media is a shady place where people take screen shots of your photos and then share them with others or save them on their phones. Snapchat lets you know when someone is being sneaky, though. Tap on the three dots icon beside your Story on the Stories screen. An icon with an arrow beside it lets you know if someone took a screenshot. Snapchat will also send you a notification as soon as it happens.
4. There's a way to get around it, though
By putting your phone into airplane mode you can screenshot photos without Snapchat sending up the alarm. Just log out before turning airplane mode back on.
5. You can make stickers
You can make stickers out of your friends' faces and then add them to your snaps. Take a photo, then tap on the scissors icon on the upper left side of the screen. Outline their head with your finger. The sticker will form and automatically save.
To use a sticker, take a photo, tap on the icon on the right that looks like a notepad and choose your sticker by tapping on it. You can drag the sticker to wherever you want it on the image.
Pro tip: If you make a circle around the person's face and then fill in their face without lifting your finger, it makes the edges of your sticker much smoother and neater.
6. All those emojis beside your friends' names mean something
When you go to the chat section of Snapchat, you may have noticed emojis by each of your friends' names. Those aren't there by accident.
7. Collaborate with your friends
Have a Snapchat Story party with your friends. To get started, swipe right from the camera screen and tap on the + icon in the upper right. Then, name your Story and tap Who can add? From there, choose which of your friends can participate. Toggle on Geofence if you want your friends to add to the Story only when they're nearby. When you're done, click Create Story. The Story disappears in 24 hours unless others add to it.
8. Add filters to jazz up your snaps
You probably already know you can snap pictures and videos of yourself and friends as puppies, pretty ladies and bunnies. These are called lenses. You can also add filters to photos and videos. Turn on this ability by tapping the ghost icon in the upper left of the camera screen, then go to Settings > Additional Services and tap the box by Filters. Now, just swipe right or left after you take a photo or video to add some preset filters.
9. Don't miss out on hidden filters
If you turn on your location, you can access extra filters that are specific to your region called geofilters. When you turn on your filters capability, you'll then be prompted to turn on your location. Just tap Enable Location and you're good to go.
10. You can make your own filters, too
Don't see a filter you like? You can create an on-demand geofilter for a wedding, graduation, birthday or else. The filter will work for anyone on Snapchat within a certain designated area.
11. Use lenses in video chat
To start the craziest video chat you've ever had, swipe left from the camera screen, tap on a friend, then tap on the video camera icon. From there, your friends will be able to watch or join your chat. To add lenses, tap on your face. The lens options will pop up and you can start being silly.
12. Let the world know it's your birthday
Tap the ghost icon in the upper left of the camera screen, then go to Settings > Birthday and tap the box next to Birthday Party. On your birthday, a birthday cake will be displayed by your name so everyone will know it's your special day.
13. Time your snaps
After you take a photo, there is a little clock icon on the right. Tap on it and you can set how long a person can look at the snap in your Stories.
14. Send money to your pals
Tap the ghost icon in the upper left of the camera screen, then go to Settings > Snapcash to send money to your friends through Square. Just tap the I Agree button and follow the on-screen directions.
15. Save your Story to make Memories
You can save your entire Story to Memories, which is where you can access all of your saved photos and videos. To save your Story, tap the download icon next to your Story on the Stories screen. To find your Memories quickly, swipe up on the camera screen.
---
Recommendation: Manage iPhone/iPad/iPod without using iTunes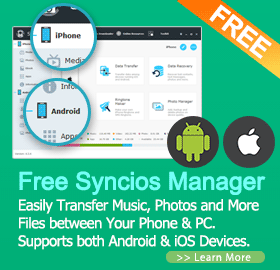 Support to transfer, edit, backup, manage, view iOS & Android mobile data: Music, videos, photos, apps, ebooks, contacts, messages and more.
Download videos from 100+ video sharing sites up to 4K HD video quality and transfer to iPad/iPhone/iPod/Android.
Handy toolkit: Audio converter, video converter, ringtone maker, etc.
Free
You can follow Syncios onTwitter,Facebookfor more tips and tricks.