1. Change Your Cover Photo on the Go
You can now change your cover photo from the mobile app. Head to your profile and tap on your cover photo. You have the option to snap a new pic, or select one from your iPhone's Camera Roll.
2. Chat Heads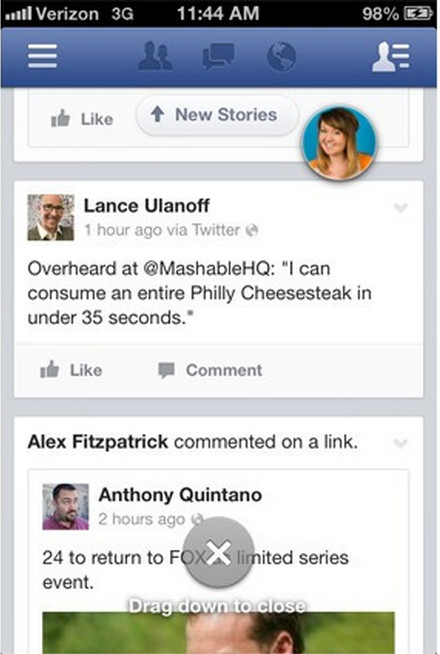 One of the most popular features of the new Facebook mobile app is chat heads, which provide a new way to message friends.
When a friend sends a message, a small bubble with his or her profile pic appears, and you can move it around the screen while you're browsing elsewhere in the app.
3. See Friendship
With the new app version, you can see your friendship histories (which you've been able to do with the web version for some time).
Go to a friend's profile, click the box and arrow icon at the top-right of the screen, and choose "See Friendship." Here you'll be able to see your shared information and interactions.
4. Delete a Post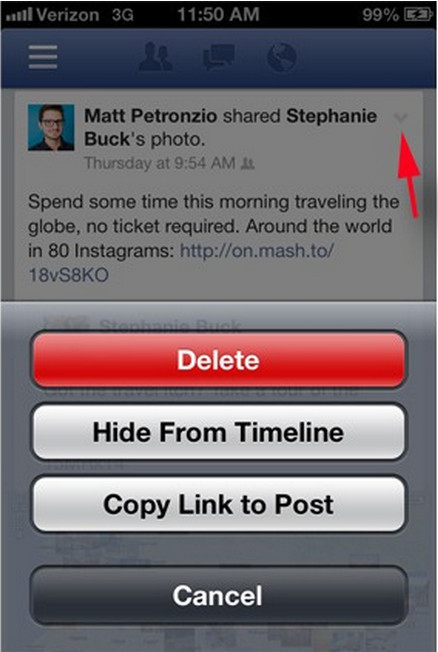 How to delete posts when using the mobile app isn't very obvious, but it's very simple. To delete content, tap the small arrow at the top-right of a post and choose "delete" (or "Hide From Timeline," if you only want it to disappear from your profile).
5. See Your Friends' Birthdays
The Facebook app doesn't flag birthdays in the same way the site does, but you can still view your friends' birthdays.
Select the "Events" option from the main menu. This will display birthdays on the current day, the following day and the rest of the week. Keep clicking "See More" to see birthdays further in the future.
6. Put Facebook in Your Dock
If you access Facebook often using your iPhone, add the app to the dock so you're a tap away, no matter which screen you're on.
To do this, first remove an app from the dock. Press and hold any app until all the icons start wiggling, then tap and drag the unwanted app out of the dock area and tap and drop Facebook in.
Once you press the home button, your changes will be saved.
7. Manage Your Alerts
Customize how you'd like Facebook alerts to display, or stop them altogether, in the iPhone's "Settings" menu.
Open "Settings" and select "Notifications." Scroll down to see your "Notification Center" and tap "Facebook." (Note: Facebook may be under "Not in Notification Center.")
You can now choose your preferred style of alert (which requires an action to remove) or banner notification, which disappears automatically.
This is also where you can turn alert sounds on and off, and choose to display the number of new actions over the Facebook app icon.
8. Manage Your Push Notifications