So, you feel like you've moved on from being an Instagram newbie and want to know the more advanced tips and tricks? You've come to the right place. Here's what you need to know to step up your Instagram game.
1. You can save other people's posts
I don't know how many times I've seen someone's post and wanted to look at it again later. Luckily, you can. Tap the bookmark icon on the lower-right side of the photo, then tap Save to a Collection. Tap the + icon to create a collection, name the collection and tap Done. The post will be added into your new collection.
You can make several different collections focused on different topics, or just keep saving in your first collection. To take a look at your collections, go to your profile page and tap the bookmark icon.
2. Take another peek at post you've liked
If saving posts to a collection just seems like too much work, just like them. When you want to revisit a post, go to your profile menu, tap Posts You've Liked, and Instagram will bring up a gallery of all the posts you've liked, starting with the most recent.
3. If you aren't using Stories, you're missing out
I've seen a bunch of Instagram users ask, "Does anyone else use Stories? What am I missing?" You're missing a lot, homeslice. Stories are a way to, well, make a story that your followers can feel like they are a part of the moment. They can be a string of photos or a video that captures a moment, day or event in your life.
4. Start another account
Want to make another account that features your hobby, your kids, or just something different than your personal account? Well, you can. Instagram lets you have up to five accounts, and it even links them so you don't need to log in and out to switch accounts.
Create your new account, then go into your profile menu and tap Add Account. Then, just enter the username and password for your other account. Now they're linked.
To switch from one account to another, go to your profile and tap on your username. A menu with all your linked accounts will pop up. Just tap the account you want to switch to.
5. Archive your posts
When you want to prevent your boss from seeing that drunken night out — but don't want to delete the photos — you can archive them. Go to the photo you want to hide, tap the menu button, and choose Archive from the pop-up menu.
To see your archived posts, go to your profile and tap the clock icon at the top of the screen. Think of archiving as creating a gallery that only you can see. Your posts live on, but they are for your eyes only.
Don't worry, you can put the archived posts back on your profile later. Just tap the post's menu icon, then tap Show on Profile.
6. You can shut up the haters
Sometimes the comments on a post can get ugly, and other times you just don't want people to say anything about a certain post. When these occasions arise, just turn off the comments.
Tap the post's menu icon and tap Turn Off Commenting. Bam! No more comments. To turn the ability to comment back on, tap on the post's menu icon and tap Turn On Commenting.
7. Share an Instagram post on other platforms
Say you post an awesome picture and you really want your friends on Twitter to see it. You can share the post by tapping the post's menu icon and choosing Share. Then, just choose Twitter from the menu.
Of course, this only works if you link your Instagram account with your other social media accounts. To get them linked up, go to your profile menu, tap Linked Accounts and then log into your accounts. As of right now, you have the option to link your Facebook, Twitter, Tumblr, VKontakte, Ameba and OK.ru accounts.
8. You can also share on Messenger
One other account you can share to is Messenger, but instead of tapping Share, you tap Share on Messenger at the bottom of the post menu. Then you can add a caption and choose who you want to send the post to. You can also just add the post to your My Day, where it will last on your Messenger profile for 24 hours.
9. Pinterest your posts
You can't link your Pinterest to your Instagram, but you can still pin your images. Tap the post's menu icon and tap Copy Share URL. Then, open your Pinterest app and a pop-up at the bottom of the screen will ask you if you want to save your copied link. Tap the arrow and pin your post. Pintastic!
10. Save your videos and videos
You can keep a copy of the photos and videos you take using Instagram on your phone. Go to your profile menu, scroll down to Settings and slide the Save Original Photos and Save Videos After Posting buttons to the right.
---
Recommendation: Manage iPhone/iPad/iPod without using iTunes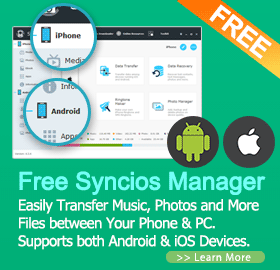 Support to transfer, edit, backup, manage, view iOS & Android mobile data: Music, videos, photos, apps, ebooks, contacts, messages and more.
Download videos from 100+ video sharing sites up to 4K HD video quality and transfer to iPad/iPhone/iPod/Android.
Handy toolkit: Audio converter, video converter, ringtone maker, etc.
Free
You can follow Syncios onTwitter,Facebookfor more tips and tricks.