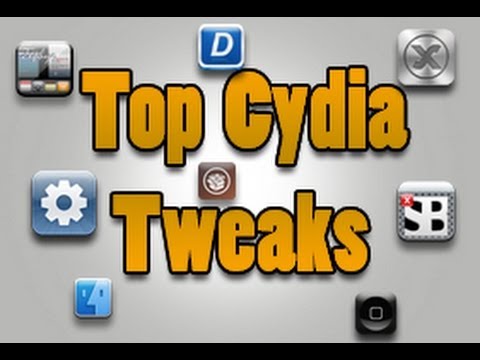 With the iOS 7 untethered jailbreak out in the wild, many finally have Cydia running on their latest iPhone and iPad software. Now naturally with the improvements added to iOS 7, jailbreak tweaks new and old are adapting to the new OS.
Here is the list of some perfect, cool and cute Cydia Tweaks for iOS 7:
Virtual Home
Now that iPhone 5s users can take advantage of a jailbroken iOS, you know we were bound to see tweaks come out utilizing Touch ID. Virtual Home allows you to simply touch the fingerprint sensor to return to the springboard as opposed to actually pressing down the home button. While we get our iOS 7 untethered jailbreak fix on a 4s device, we can't speak to having used the app personally. Though if the home button only invokes to your fingerprint, we'd be pretty impressed. For those wanting to limit the number of Cydia packages on their device, you can also do this as part of Activator now.
BlurredMusicApp
While we like the look iOS 7 brought with it back in September, we can't say the same about the Music app. If you're like us you may want to installBlurredMusicApp. The app replaces the chrome of the Music app with blur effects, similar to what's found in the new Notification and Control Centers. If you're playing a song with album art with this iOS 7 untethered jailbreak tweak installed, the colors of the album influence the color of the on-screen fonts — somewhat similar to the new iTunes. We did notice a bit more lag when using the music app now with this iOS 7 Cydia tweak installed. Though it's your call — maybe the slight dip in performance is worth it to you.
 CCControls
You knew we were bound to see some Control Center iOS 7 jailbreak alterations. With Control Center essentially being the Apple rendition of tweaks like SBSettings or NCSettings, it is only natural that we see tweaks for the toggle pane. While there are many out there, we think CCControls is among the best. The iOS 7 untethered jailbreak tweak allows you to customize what toggles are found in Control Center along with adding a few of their own. New toggles like VPN, Personal Hotspot and Respring make this Cydia tweak pretty useful. Not to mention the ability to disable certain toggles when on the lock screen, like Airplane Mode for example (sorry thieves).
The iOS 7 Cydia tweak is pretty useful, though we did run into a bug or two using it. Though we'll keep our fingers crossed in hopes that the dev will patch things up with time. CCControls can be found on the ModMyi repo.
 CCQuick
CCQuick is another iOS 7 untethered jailbreak tweak that's caught our eye. While CCControls mainly deals with customizing the top row of toggles, CCQuick focuses on the bottom row of shortcuts. Along with being able to finally customize what's on the bottom of your Control Center, CCQuick comes with an added bonus. iOS 7 jailbreak users will be able to access a secret settings panel that Apple includes, but hides, within their latest software — allowing customization of the new UI. The secret menu allows you to control the speed of various UI flourishes and parallax effects. Though if you're looking to speed things up without installing something like CCQuick, we'd go with the Cydia tweak NoSlowAnimation.
 KeyBlack
If you're a fan of the new black keyboard part of iOS 7, jailbreak to the rescue! The iOS 7 untethered jailbreak tweak KeyBlack allows you to always make use of the black keyboard — not just in select screens. If you're a fan of the darker look or want something that matches your black device better, this Cydia tweak is for you.
IntelliscreenX 
The IntelliscreenX is a popular Cydia tweak that adds one level of functionality to the iPhone. It has also functionality of linking in Facebook and Twitter updates on the lock-screen. Not only the Facebook and Twitter but also Notification Center and RSS feeds can be added onto the lock screen. Users can get instant access to breaking news through RSS feeds.
AppSwitch :-
It is cool tweak and going to be fun to use it our iPhone. You can't stop yourself  to use this tweak again and again. The tweak for the current jailbreak solution lets you to add up to four custom apps in the App Switcher. What if you use more than 4 apps in your iPhone? This tweak will be helpful to pin such apps to the dock of your device.
iBlacklist 
We've already talk about iBlacklist app in our previous article, It is another highly useful tweak that allows iPhone users to easily block any unwanted phone calls or messages from any phone number. This feature is not provided by the Apple natively.
SBSettings :-
It has been listed in a top tweak for its effectiveness and durability even with the new iOS 7 also. Its main benefit lies in its ability to optimize iOS app speed and reliability. The other supplementary feature includes brightness adjustment, Bluetooth On/  Off, Airplane mode, and Wi-Fi settings all in just few clicks.
AirBlue 
The AirBlue Sharing allows you to utilize Bluetooth Settings, high-speed file transfer, Wi-Fi  sharing – basically all things to transfer data but at faster speed. So, Now you can easily transfer file on your iDevice. If you're Bluetooth fan, It is probably best tweak you should try.
——————————————–Extended Reading———————————————-
Jailbreak and Syncios iOS Manager
If you are looking for ways to manage your jailbroken device without the risk of removing the jailbreak, you are at the right place. Syncios is a freeware and acts as an alternative to iTunes on the PC for managing iOS music, videos, photos, apps and more. Avoiding iTunes has never been easier – try Syncios for yourself:

Learn More:
iOS 7 Jailbreak Themes: 7 Awesome Theme Ideas for iPhone 5S, 5 And 4S 
A List of iOS 7 Compatible Jailbreak Tweaks for iPhone 5S And Other 64-Bit Devices
How to backup iPod/iPhone/iPad with free iOS backup tool Syncios?