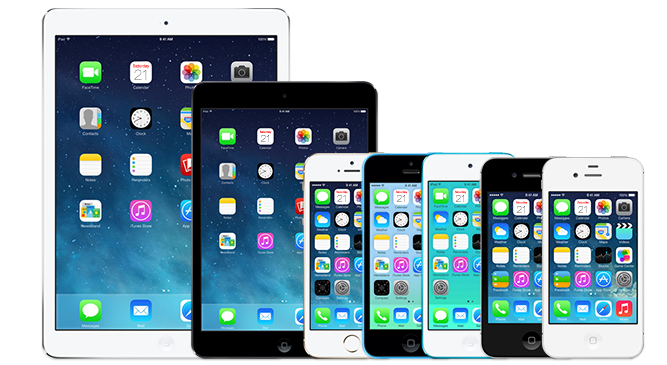 iOS 7 UNTETHERED JAILBREAK COMPATIBLE DEVICES
Evasi0n supports the following devices running iOS 7.0.0, 7.0.1, 7.0.2, 7.0.3, 7.0.4 and iOS 7.1 beta 1 and 2.
Please note that this is an untethered jailbreak.
You need any iDevice that runs iOS 7 through 7.0.4. It is safe to do a fresh restore to iOS 7.0.4 (of course, do a backup of your device before that) through iTunes
iPhones: 5s, 5, 4s, 4
iPad: Air, 4th gen, 3rd gen
iPad mini w/Retina display, mini (original)
iPod Touch 5th generation
The device should be running iOS 7.0 or other versions of iOS up to 7.0.4.
If your device is not running iOS 7 head to the bottom on a tutorial on updating your device to iOS 7. Note: it is recommended to update with iTunes and not Over-the-Air (OTA).
How to Untethered Jailbreak iOS 7 on iPhone, iPad, and iPod Touch Using Evasi0n7
Make sure you have backed up your iDevice. This is very important. If something goes wrong during the jailbreak, you should be able to restore to the backup.
1. Download the latest version of evasi0n for Mac, Windows evasi0n.com and extract evasi0n. You may need to run Evasi0n as an administrator on Windows.
2. Connect your device to the computer through the USB port, and launch the Evasi0n application. After a few seconds your device will be detected with it's matching firmware.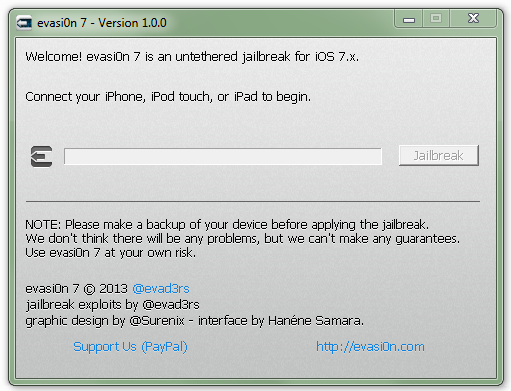 3. With your device plugged in and hit the 'Jailbreak' button to begin. If you have not yet disabled your passcode or Touch ID on your device it is advised to do so. Head to Settings > General > Passcode to disable it.
4. Evasion will begin retrieving remote packages (jailbreak data) and then progress to configuring the system at two different stages. Your device will reboot shortly after.
5. You'll be instructed to unlock the device and proceed to the icon labeled "Evasi0n" and launch it. Your device will report. Evasi0n will say "Done" on your computer.
6. The device will reboot with the evasi0n logo and read under it: "Reading Kernel", "Calculating offsets…" "Setting up packages…" "Setting up Cydia…" "Setting up extra packages" and "continuing with boot".
8. You're done! Your iOS device is running iOS 7 and is now jailbroken with an untethered jailbreak!
Untethered Jailbreak iOS 7 Troubleshooting
If you get stuck somewhere along the process, it's pretty safe to do this:
Quit the Evasi0n7 program
Press and hold Power and Home button till the iDevice switches off. Then press the power button again to restart.
Open Evasi0n7 again and re-start the whole process again.
Over the air updates seem to be facing issues. If you did an OTA to get to iOS 7.0.x, you might have to do this:
Take a full backup of your iDevice in iTunes
Now, do a fresh restore via iTunes and upgrade to iOS 7.0.4
Then, restore the backup
Finally, proceed to jailbreak.
Learn more about how to fix stuck on Apple logo, endless reboots and other evasi0n7 jailbreak problems
Check:  10 must-have new Cydia tweaks for iOS 7
FAQ:
1. What is the purpose of jailbreaking? 
Jailbreaking allows you to install third-party applications, tweaks, mods, themes, useful utilities, and other content (called "packages") from Cydia, the jailbreak equivalent of the App Store on iOS. Jailbreaking essentially allows for you to further customize and enhance your iOS device beyond the limits that Apple imposes.
2. Do I need to be running a freshly installed version of iOS 7 to jailbreak? Will my content be erased?
You do not need to be running a newly installed copy of iOS 7, but it is recommended. Your device's media and settings will not be affected or removed by the jailbreaking process. Backing up your content to iTunes or iCloud, however, is still recommended as a precautionary measure. Please refer to the backup instructions further down.
3. What's the difference between an untethered, tethered and semi-tethered jailbreak?
Tethered Jailbreak: A tethered Jailbreak needs to be plugged into your PC or Mac over USB, and you typically need to re-run your Jailbreak utility — like evasi0n — and choose the "boot tethered" option to restart your device. You will not lose any data.
Untethered Jailbreak: An untethered Jailbreak can be rebooted any time, anywhere, without having to connect to your PC. It works just like a non-Jailbroken device.
Semi-Tethered Jailbreak: A semi-tethered jailbreak allows you to start your iDevice without plugging it into your computer, however you will not be able to use your jailbroken addons until you boot from your computer using the jailbreak program.
——————————————–Extended Reading———————————————-
Jailbreak and Syncios iOS Manager
If you are looking for ways to manage your jailbroken device without the risk of removing the jailbreak, you are at the right place. Syncios is a freeware and acts as an alternative to iTunes on the PC for managing iOS music, videos, photos, apps and more. Avoiding iTunes has never been easier – try Syncios for yourself: