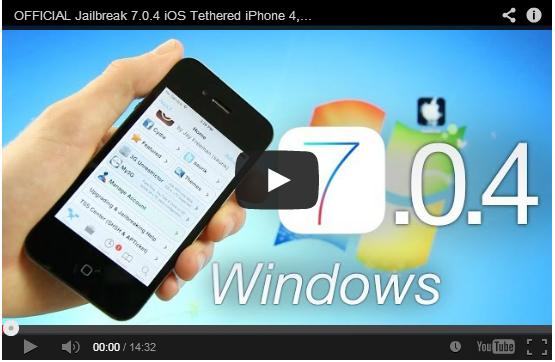 For those of you who didn't know, there is an iOS 7.0.4 tethered Jailbreak for ONLY iPhone 4 (GSM and CDMA). Popular YouTuber iCrackUriDevice posted an excellent in-depth video guide on how to jailbreak 7.0.4 on the iPhone 4 using the new RageBreak utility for Windows. The RageBreak tool for iOS 7.0.x is based on winocm's opensn0w jailbreak, which is made possible by Geohot's ancient limera1n exploit from over three years ago. Like with the command line tool for OS X, RageBreak is nothing new, it's simply a convenient GUI for winocm's opensn0w project. The steps outlined in this written iOS 7.0.4 jailbreak tutorial will also function on GSM and CDMA iPhone 4 models running iOS 7 through 7.0.3 and, of course, 7.0.4 – individuals with newer iDevices should stay tuned for future updates concerning the evad3rs' upcoming Untethered iOS 7 utility.
The process itself is lengthy but it's not complicated. As the embedded video shows, the process involves a bit of DFU mode'ing the iPhone 4, using the RageBreak software to load the IPSW files, to select the iPhone version and then to install Cydia. Not to forget, being a tethered jailbreak, you'll have to connect your iPhone 4 to the computer and run RageBreak every time you want to boot up your iPhone 4.
Here's what you'll need:
iTunes and .NET are usually available by default. But in case you're not sure, you can still get them from within the links you'll find in RageBreak software.
The process is well-described in the video but here's a brief overview on how to tethered jailbreakiPhone 4 running iOS 7.0.4:
Step 1: Open RageBreak (run as administrator by right-clicking).
Step 2: Click the first option inside RageBreak GUI (and then click on "OK") to let RageBreak download the necessary files for the jailbreak.
Step 3: Plug your iPhone 4 to your computer and then enter DFU mode (hold power and home simultaneously for 10 seconds till screen goes blank. Then let go of the power button but keep pressing the home button for another 15 seconds).
Step 4: In RageBreak, click the second option (to Jailbreak) and click "OK" when it asks if your iPhone 4is in DFU mode.
Step 5: Click "OK" for all other prompts. Occasionally, you might even have to click on "Run" when Windows asks your permission to run/open a few apps.
Step 6: At this point, your jailbreak is complete. Now, let's reboot via RageBreak since this is a tethered boot.
Step 7: Put your iPhone 4 in DFU again. Open RageBreak and then pick the correct version of youriPhone 4. For instance, if it's an AT&T mode, pick (3,1). If it's Verizon CDMA, pick (3,3).
Step 8: The iPhone 4 will boot up.
Step 9: Let's install Cydia now: connect your iPhone 4 to the Wifi network and find out the IP address. You can do this by heading over to (Settings -> Wifi -> tap on the "i" on the right of the Wifi network you are connected to -> Note the IP address)
Step 10: Inside RageBreak, click on "Install Cydia" and enter the IP address. Follow on-screeninstructions and then, your iPhone 4 will switch off again. DFU Mode and reboot by following step #7.
Step 11: Your iPhone 4 will have rebooted and there should be Cydia on your iPhone 4 now.
Although you'll now be jailbroken, there's nothing much to boast about. Tweaks aren't yet being developed for iOS 7 as we've yet to see a full-fledged jailbreaking process for this iOS.
Please note that this is only for iPhone 4 based on an old bootrom exploit that Apple fixed through hardware changes in subsequent iPhones.
Learn more:
 How to jailbreak iOS 7 using Evasi0n7 on iPad, iPhone and iPod touch 5G
How to fix stuck on Apple logo, endless reboots and other evasi0n7 jailbreak problems
How to backup iPhone with free iPhone backup tool?
How to recover iPhone 5S contacts from an old iPhone?